I ran for San Gorgonio Pass Water Agency (Division 5) to ensure we, who live in Calimesa and Beaumont, have a high quality, abundant, and affordable water supply.
During the past decade, I have served the citizens of Riverside County as former Mayor, City Councilman, Planning Commissioner, and numerous regional boards including Riverside Transportation Commission, Western Council of Governments, and Southern California Association of Governments to name a few. On every board I have had the pleasure to serve, it has always been my goal to be a champion for taxpayers and promote public policy.
My years of public service along with three decades in the construction industry, building major roadways, dams, and bridges provided me the ability to understand infrastructure issues and complex contract negotiations. Earning a degree in Business Management from the University of Redlands provided me the necessary tools for making difficult management decisions.
Today, I own and operate a mountain resort Inn located in the county of San Bernardino and understand what it takes to run a successful small business in California.
My 44 years of marriage to my amazing wife Roxanne, raising two terrific kids, and now with two granddaughters has renewed my commitment to ensuring I do all I can to manage our water resources for the present and the future.
Water issues are both complex and at times continuous. I please to be an advocate for your right to clean water, transparent representation, and full accountability as your representative on the San Gorgonio Pass Water Agency.
Term of Office: Elected in 2020, his term ends November 2024.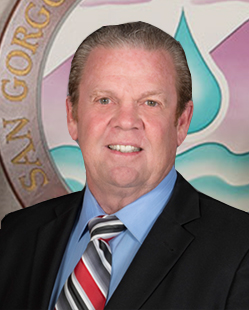 Larry Smith
President, Division 5